Thanksgiving Dinner Pre-orders!
Thanksgiving is right around the corner.  This has been quite a crazy year, yet hopefully we can all still find so much to be thankful for.  We are thankful to take the day off, but we won't leave you without options for your Thanksgiving dinner.
Our family doesn't eat turkey so we wish to share with you our vegetarian Holiday Torte. You get all the good sensations that a big Thanksgiving meal provides, and you won't even miss the turkey!  Layers of roasted vegetables, stuffing, tofu, and more; wrapped in puff pastry. This dish is available vegan, and Gluten Free by special request.
We will offer plenty of vegan  and gluten free side dishes and desserts to complement your dinner.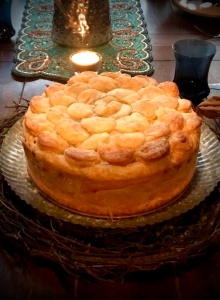 We are also teaming up with Michelle from Minka Flowers again to provide beautiful arrangements for your table settings.  We will also offer perfectly selected bottles of wine to compliment your meal.
The menu will be posted soon under menus, with all items a la carte or as packages.  You can call us anytime Tuesday through Saturday from 4 – 8 to place your order over the phone.  Pickup will be Wednesday, November 25 and the nice person who takes your order will help arrange a pick up time with you.  All items will have instructions as to how to finish, or reheat them.  You can even take the credit for it, we won't tell!
Ordering will be available from 10/28  until 11/15.
Cheers!
Bridget and Scott